Keyword research is a key component to connecting customers to your website. It finds opportunities based on what people are looking for and opens the door to a successful search experience. In a word, it is key.
Logically, it makes sense then that if you feature the right keywords on your site, you increase your chances of being found by the right people. But as essential as keyword research is, busy marketers find that their time is even more precious and must be managed with the utmost care to get the most out of it.
Follow the simple steps in this post to come up with superhuman keyword ideas in under than a minute.
(We can't promise it'll take less than a minute to read this post.)
These days, marketers need to do more and achieve more, but still have just as little time to get everything done. The best marketers don't believe in cutting corners and letting quality suffer, but that said there must be more efficient ways to do things. The old overused and ambiguous cliché "work smarter not harder" comes to mind.
It sounds good but it hasn't solved your problem. So today I'm going to show you a clear way to save time by doing the right kind of keyword research in under a minute. This isn't a hack or a cheat or a cut-corner. This is a simple ideation process that can save you precious time and energy.
Recently, I did a talk at our conference, Big Digital Adelaide, called "I've Got 99 Problems and a Keyword Ain't One".
It's a true story.
In my slide deck I outline a basic workflow of keyword research from insight gathering through ideation and validation to understanding the opportunities in the context of the search experience.
Let's face it though. If you're like me and researching keywords is just one item on a to-do list of hundreds, what you really need is a quick process to find a bunch of keyword ideas with heaps of potential.
To use this method you'll need to have access to a web server and some FTP software, so get that sorted and come back. I'll still be here.
Keyword Research in 4 Super Fast Steps
Question: What's the most optimised web page on the internet for any particular keyword? Well, I'm willing to wager that the Google search results page are pretty optimised! The secret to this method is using Google unto itself
Step 1 – Save a SERP to your local machine
This lightning fast method works best if you already have a pretty good idea of what your business does (and to continue my winning streak, I'll bet that you do. But if you want to get an even better idea of how your business helps your customers, check out our customer research hacks.) For the purposes of this post, let's pretend you're an Adelaide-based hamburger joint.
Start by Googling "burgers adelaide".
This will lead you to the following Search Engine Results Page:  https://www.google.com.au/search?q=burgers+adelaide. You'll probably notice that the SERP may include some features like maps or reviews. You can learn more about how to take advantage of these from our SERP Features study, but for now we're going to go old-school and focus on the words on the page.
Step 2 – Save & Rename to <keyword.htm>
To save the search results page, right-click an empty part of the page, select Save as… and save the file as "burgers-adelaide.htm".
Step 3 – Upload to FTP Server
We're cooking with gas now.
Transfer the file from your computer to a web server with FTP software like Filezilla so it's accessible on the internet (that thing you're on right now) as if it's a page on your website e.g. www.yourwebsite.com/test/burgers-adelaide.html
Step 4 – Enter your URL into Keyword Planner
Visit Google's Keyword Planner, click on "Search for new keywords using phrase, website or category" and enter the URL under "Your landing page", and choose your location (or the location you want to target).
Click "Get ideas" and BOOM!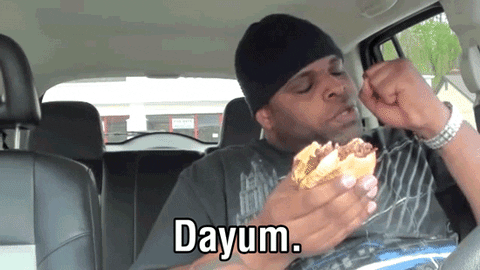 Check under "Ad Group Ideas" for all the keyword goodness.
And just like that, 1 minute of keyword research can put you on track to rank for the searches that matter for your business, put out some feelers to attract the right kind of visitors and ideally provide the juicy, mouth watering burgers content that will whet their appetites every time they drop in for a browse.
The next steps to creating a stellar SEO strategy are validating these ideas and uncovering which of the terms create the best opportunities for your website. If you haven't checked out my full keyword research process yet, it shows you exactly how to do this.
Is it just me or is anybody else hungry? Hold the pickles, extra mustard.